Obituary of Alan Wemp
August 6, 1944 - December 25, 2021
Having been blessed with the opportunity to say farewell to those closest to him and leave them with his last thoughts and wishes, Alan quietly departed on Saturday, December 25, 2021.
Alan was born in Calgary to Gordon and Helen Wemp. When he was young his family moved to Red Deer where he spent his early childhood. They returned to Calgary while he was still in elementary school and, when he was seventeen, he met a fifteen-year-old girl, Patricia, who stole his heart.
"I could never have imagined the beautiful life we built together that started with our first date at an A & W drive-in. I only wish we could have many more lifetimes together. But his absolute confidence that I can do anything gives me the strength I will need to learn how to live without him by my side, but always in my heart."
At the heart of that beautiful life were their three children, Brian, Suzanne, and Joanna, and later, their grandchildren. Alan's "dad style" was not one of telling his kids what to do, but to support their independent direction and choices in life.
Brian recalls, "When I think of Dad, I think storyteller. From the funny stories he would tell us kids, which we'd always try to corroborate with Mom, to his take on world events. Stories were his way of passing on thoughts, ideas, observations, and humour. I especially appreciated his anecdotes about odd and interesting characters he knew or had met, usually local and never famous, from which you got a totally 'alternative' perspective on Calgary and Southern Alberta."
Suzanne adds, "My dad was one of the good ones. All of his free time was unquestionably dedicated to us kids. He drove us to dance, hockey, figure skating, horse jumping, swim practice and everything else without fail, without complaint. He also coached and volunteered to help groups in our community. This unconditional support continued into our adult lives. One of my most significant memories of my dad is when he sat with me as a new mom in the wilds of Kananaskis as I breast-fed Cole before handing him over to his Grandpa and starting a long trail race. Cole was only a year old and his Grampa took care of him all day so I could run and he could show baby Cole around one of his favourite areas. His support was truly unending for all of us.
He had a particular talent for teaching skills like changing a light fixture and doing basic flooring to my kids."
Alan had a passion for nature. He enjoyed camping and made sure that he shared this experience and appreciation for the outdoors with his children.
Alan's mind embraced abstract logic, which was reflected in his abiding interest in theoretical physics. That talent was put to good use when he started working in the field of Information Technology in the days when it was called "Computing". The computer filled an entire room and had the processing power of a modern toaster oven. He grew with the field, becoming the manager of information systems for a multi-national corporation, where his abilities were recognized with an offer to oversee IT for all North American operations. It was only after he retired that he found his dream job, driving a 72- passenger school bus filled with boisterous children whom he treated as very precious cargo.
Brian, "He had a natural ability to get along with people from all backgrounds. This was apparent when he was travelling internationally as part of his work when he connected easily with all sorts of people, from senior executives of his Belgian multinational to people he met on the street and in shops in places like Montreal, San Francisco, and Antwerp."
As a quasi-professional dog-walker he got to know a large proportion of his neighbours. At family and social gatherings, he could always be counted on to keep people entertained, without being the centre of attention. Although he held strong views, he always respected those of others and could discuss without demeaning. He was aided in this by his dry and often deadpan humour.
Alan was a man of unshakeable principles. He was born a feminist. He was a supporter of Indigenous rights long before it became a popular cause. Alan never sought recognition or reward. He simply saw things that needed doing and did them. This was most obvious in the way he constantly offered his help to family, friends and neighbours. Political office was of no interest to him, but he worked relentlessly from within his political party to protect and promote the democratic ideals that were so important to him. He also worked quietly, but passionately to defend the natural landscapes he loved.
Joanna, "My dad showed me how important it is to leave this world better than we found it. And, most importantly, I knew he believed, unconditionally, that I could."
Alan's generosity of spirit and confidence in our ability to do good, will live on in those who knew and loved him: wife, Patricia (nee Middleton); children, Brian (Pricilla), Suzanne, and Joanna (Braydon) Low; sisters, Ann (decd.)(Wayne decd.) Johnson, Kathy (Lorne) Berg, and Vicki Wemp (Bob); brother-in-law Ron (Carole) Middleton; grandchildren, Eri, Denise, Cole, Darcy, and Ciera; his nieces, nephews, all the members of his extended family, and the many friends and coworkers whose lives he touched.
A Celebration of Life will be held at McInnis & Holloway (Crowfoot, 82 Crowfoot Circle NW. Calgary, AB), on Sunday, November 20,2022 at 2:00 p.m. Reception to follow in the Hospitality Centre at the Funeral Home. Condolences, memories and photos can also be shared and viewed here.
In living memory of Alan Wemp, a tree will be planted in the Ann & Sandy Cross Conservation Area by McInnis & Holloway Funeral Homes, Crowfoot, 82 Crowfoot Circle NW, Calgary, AB T3G 2T3, Telephone: 403-241-0044.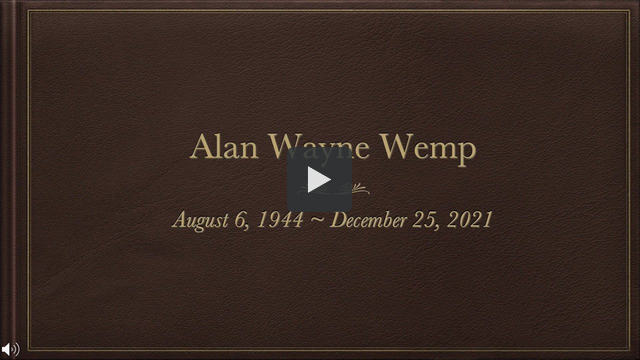 Celebration of Life
2:00 pm
Sunday, November 20, 2022
Crowfoot Chapel
82 Crowfoot Circle NW
Calgary, Alberta, Canada
(403) 241-0044
Share Your Memory of
Alan