In Memory of
Lavene Joy MORIN
1955 - 2020
Donation Details
If friends so desire, memorial tributes may be made directly to the Heart Beats Children's Society Box 30233 Chinook Postal Outlet Calgary , AB T2H 2V9,https://www.heartbeats.ca/you-can-help
Obituary of Lavene Joy MORIN

December 29, 1955 - Pincher Creek, Alberta
November 29, 2020 – Calgary, Alberta
Lavene Morin, beloved wife of Leslie Morin of Calgary, AB, passed away peacefully on Sunday, November 29, 2020 at the age of 64 years, after a 10 year battle with Alzheimer's disease.
Lavene was a devoted wife and loving mother, who spent much of her time as an advocate for her children with regards to their health and well being. She and her husband Les have enjoyed forty-three years of marriage. In between being a mother and wife Lavene held various positions of employment.
She also loved to volunteer, and had a special place in her heart for the "Heart Beats Children's Society of Calgary", because of the connection with her daughter's heart conditions. Other interests included volunteering with the Calgary Board of Education in the school offices her daughters attended.
Lavene's favorite past time included reading, crocheting; and family get-togethers. Her family and friends were her world. She was fortunate to take a family vacation to Disney World prior to the onset of her dementia. It turned out to be one of her most favorite trips.
Throughout the years Lavene always maintained a good sense of humor in light of her circumstances. She would often be caught singing or humming different tunes or hymns which spoke volumes for her love of Jesus.
She will be lovingly remembered in the hearts of her husband Les; daughter Courtney Morin; her mother Florence (Richard) Berringer, her brothers, Carl (Mandy) Graham, and Brent (Deborah) Graham; her brothers-in-law, Dave (Rosella) Morin, Glen (Jan) Morin, and Ted (Marlies) Morin; and sisters-in-law, Donna (Gordon) Schroeder, and Candace (Kevin) Green; as well as numerous nieces, nephews, cousins and friends.
Lavene was predeceased by her daughter Jenene Morin, father Roger Graham; mother-and father in-law Ruth and Jim McAlpine; and father-in-law Peter Morin.
Due to COVID-19 restrictions, a private Graveside Service will be held on Friday, December 4th, 2020 at 1:00 p.m., with immediate family. Condolences, memories and photos may be shared and viewed on Lavene's obituary at www.McInnisandHolloway.com.
If friends so desire, memorial tributes may be made directly to the Heart Beats Children's Society Box 30233 Chinook Postal Outlet Calgary , AB T2H 2V9, https://www.heartbeats.ca/you-can-help
In living memory of Lavene Morin, a tree will be planted in the Ann & Sandy Cross Conservation Area by McINNIS & HOLLOWAY FUNERAL HOMES, Deerfoot South, 12281 – 40th STREET SE, CALGARY, AB T2Z 4E6, Telephone: 403-203-0525.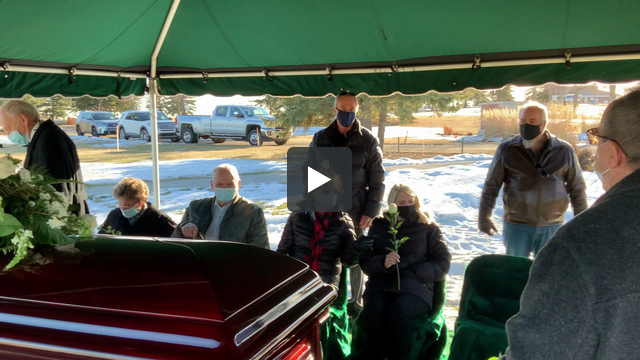 Share Your Memory of
Lavene